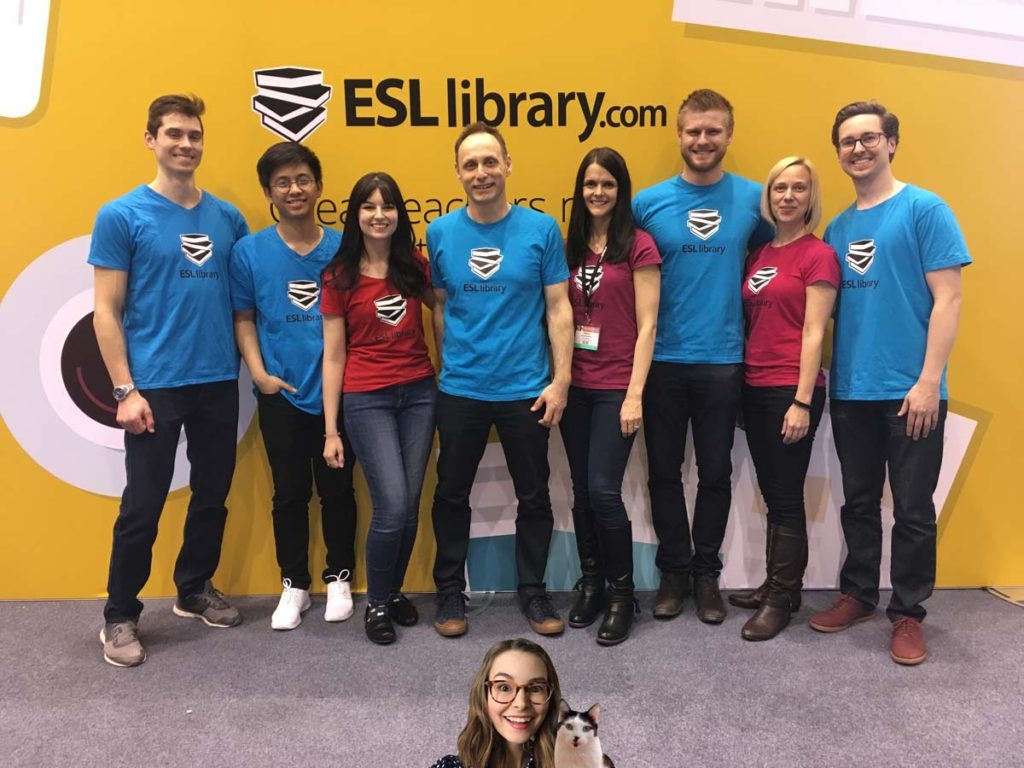 TESOL in Chicago
The ESL Library team has just returned from our annual meet-up at the international TESOL convention. This year the conference was held in the windy city of Chicago! We've come a long way since the first TESOL I attended with ESL Library back in 2010 when we used luggage racks as side tables. This year, ESL Library was the official sponsor of the international convention. We sponsored the prize booth and registration area. Throughout the week, we gave away three Apple Watches and several Amazon gift cards. It was a blast seeing so many TESOLers with their fingers crossed at our booth each afternoon. Congratulations to all of the lucky prize winners!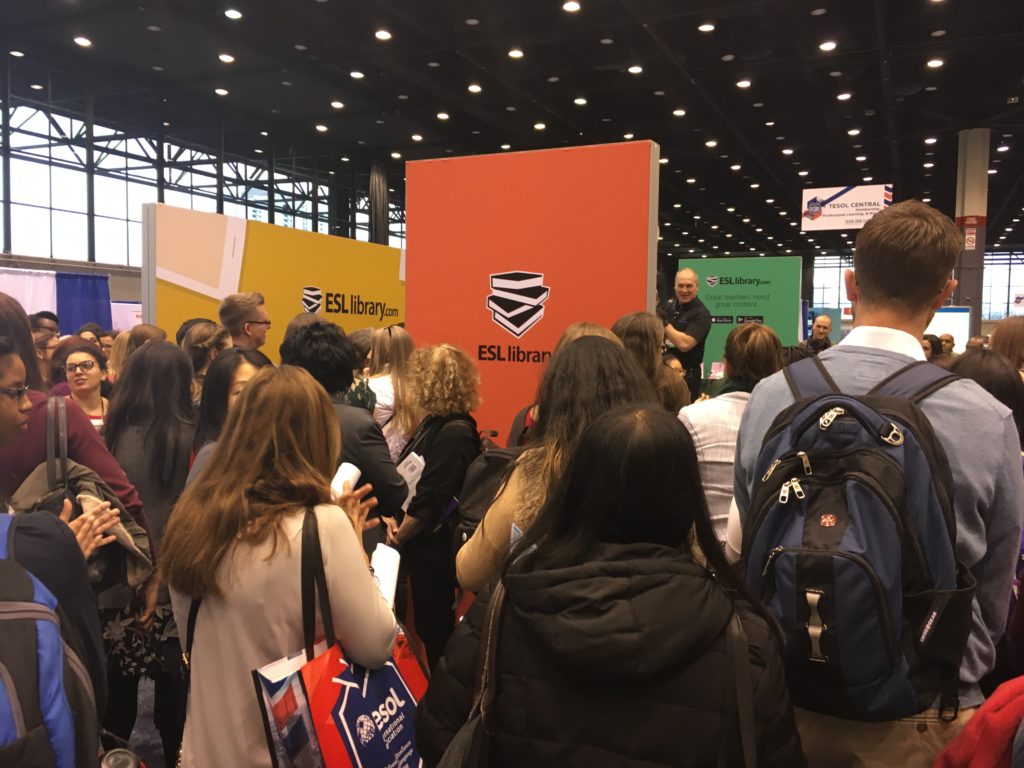 Thank you also to our creative director Robyn and accounts manager Taylor for coordinating and designing the ESL Library booth this year. This was by far the most stylish exhibit we've ever had, though building it involved numerous competencies from 'Following Instructions' to 'Interacting with Others' and 'Getting Things Done.' Ben, Taylor, and I can forever think of the trying day before TESOL 18 as TESOL Tuesday! Robyn had her own last-minute disaster when Wally, her anxious cat, mistook her as prey just before the trip. Sadly she was unable to join us in Chicago, but she was with us in spirit!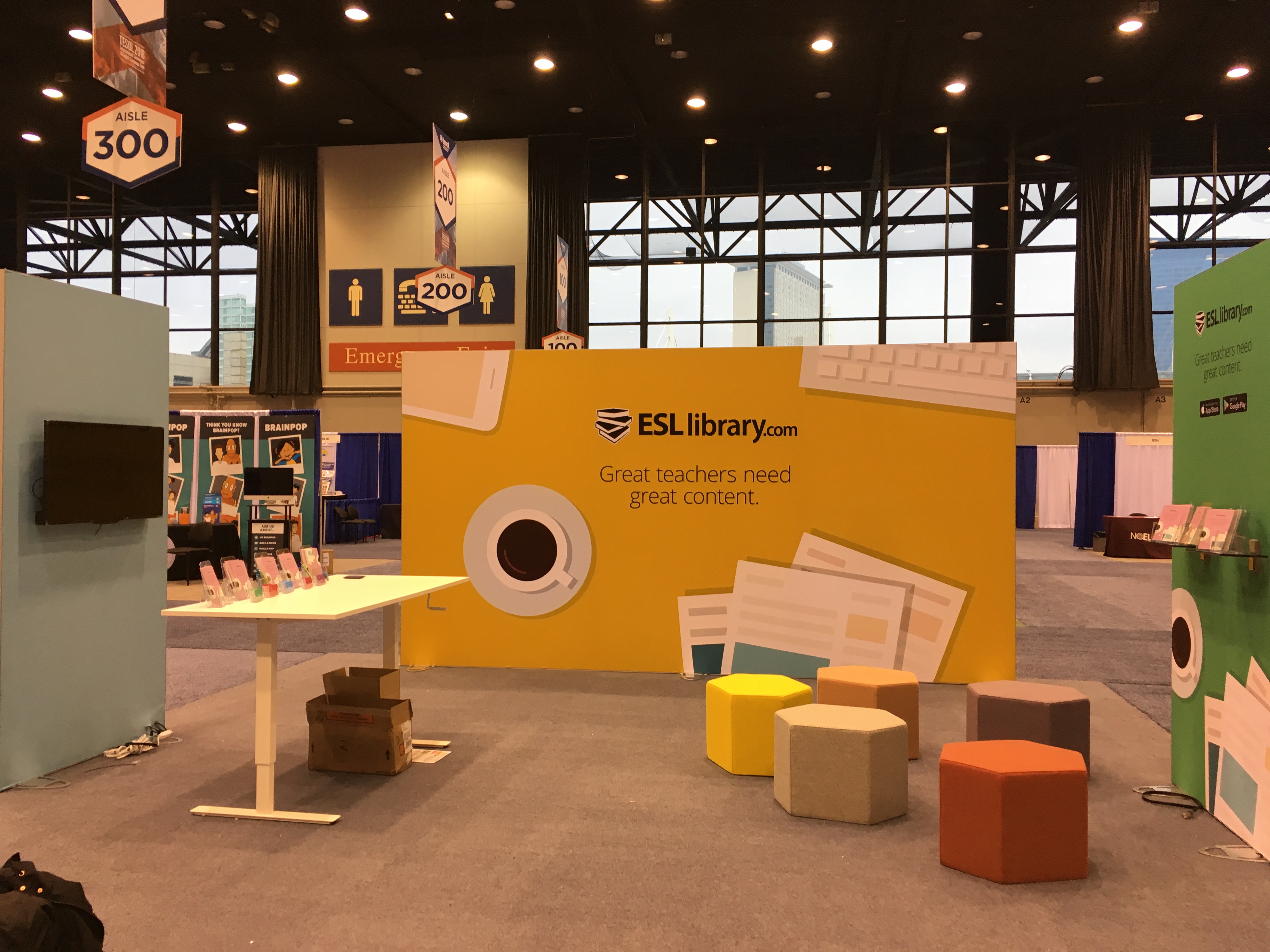 Sessions & Demos
Our team presented four back-to-back sessions on the first day of TESOL. It was a whirlwind of a day with live demos of our site and digital platform taking place back at the booth and in the session room. (Watch for a free digital lesson trial coming soon to all subscribers!)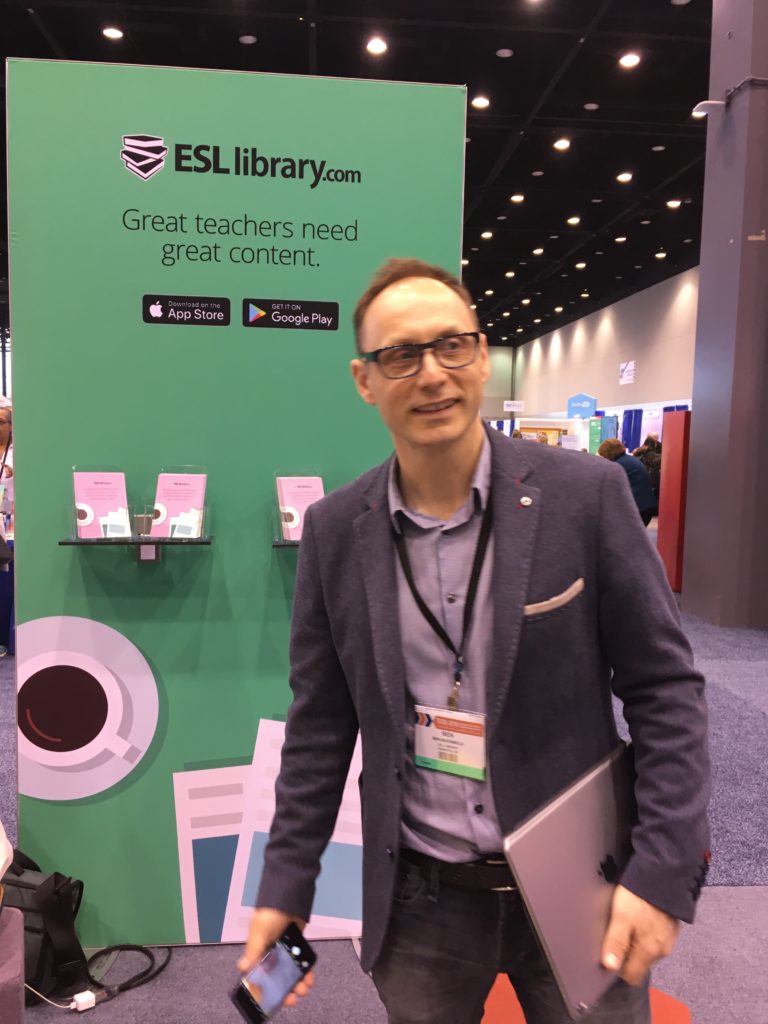 In one session, Ben used Japanese to show teachers how to use images to elicit and reinforce language structures and vocabulary. In another session, Tanya and I officially launched ESL Library's NEW YL & Literacy section. Thanks to all TESOL attendees who joined us for our sessions and demos!
Professional Development
In addition to presenting, Tanya and I also attended sessions about pronunciation, literacy, and the English Language Proficiency Standards. Just as we've done with PBLA for our Canadian subscribers, we're now working on aligning our materials to the ELP Standards. It's amazing how much you can learn in a few well-planned TESOL sessions. Thank you to all of the presenters!
Lodging & Sightseeing
Half of our team had a wonderful stay at W Chicago Hotel, which looks over the Navy Pier, while the other half stayed at the Sofitel on Chicago's Magnificent Mile. Together we enjoyed a wide variety of good food, from vegetarian and gluten-free to greasy, deep-dish pizza. We also took in some fun attractions and even hit a few dance floors! Through it all, we debated the past tense of 'sightsee.'
Restaurants
Here are some of the restaurants we enjoyed in Chicago:
True Food Kitchen (delicious veggie fare)
The Little Beet Table (100% gluten-free)
Sushi Dokku (amazing food, excellent atmosphere)
Giordano's (deep-dish pizza)
The W Chicago Hotel (early morning breakfast smoothies)
Timothy O'Toole's Pub (traditional pub)
Attractions
Sadly we didn't make it to the Winnipeg Jets game as planned, but we did take in some other attractions, including:
Navy Pier
Redhead Piano Bar
Millennium Park (to see Cloud Gate, aka 'the bean')
Chicago Riverwalk
United Center (for a Chicago Bulls game)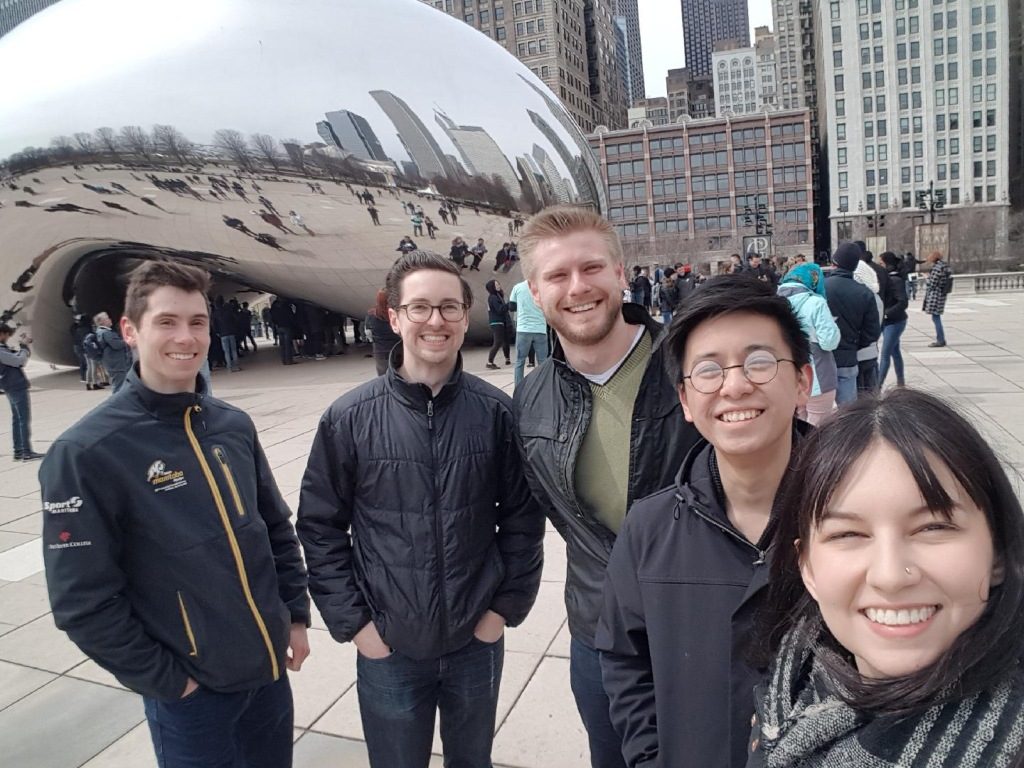 Takeaways
One of our top priorities at this year's TESOL conference was to launch our new app and show off our digital lessons. It was great to see so many teachers excited about our digital content. As always, we enjoyed meeting many long-term subscribers at TESOL. In past years, subscribers have come to our booth prepared with lists of new lessons and sections they'd like to see. This year, however, many were stumped when we asked them what content they have trouble finding on ESL Library. Some said they would have to think about it and get back to us, while others asked us for more of their favorites, including more Grammar Stories, more Phonics worksheets, and more lessons on Historic Events and Science. Several attendees expressed relief to hear that we are working on aligning our materials with the English Language Proficiency Standards. The highlight of TESOL this year was on Friday afternoon when the second half of our family (our hardworking coders) flew in from Winnipeg and were able to get a taste of TESOL (and an epic team picture)! As remote workers, it was a thrill for Tanya and I to welcome them at the booth (and even to meet Michael, Dan, and Kyle face-to-face for the first time). The boys helped us with the takedown of the exhibit (our quickest TESOL exit to date) before we spent a fantastic evening together exploring the great city of Chicago. See you in Atlanta for #TESOL19!